34″ X 48″ Tile-Basin® With Center Drain TB-3448-C
Factory-sloped, rock-solid and ready-to-install, our Point Drain Tile-Basin® is a turn-key tile shower base that connects to most common 3-piece tile shower drains. With a factory installed curb and flange combination to meet your design requirements, a Point Drain Tile-Basin® arrives ready-to-install and guaranteed not to leak.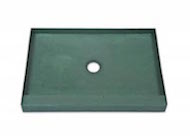 Gone are the days of error-prone mortar beds and leak-prone sheet liners in traditional tile shower pans. The Point Drain Tile-Basin® is a patented factory-sloped, factory-waterproofed alternative to the old mortar beds and sheet liners, designed to give you peace of mind. The Point Drain Tile-Basin® is crafted with a perimeter flange/curb combination of your choice. Better yet, no additional water-proofing is required.